If you provide remote technical assistance, you may need to provide some easy remote access tool to your customers.
Distant Desktop is perfect choice, because at first, it is completely free for commercial use. And second, it supports customization and re-branding.
This means your logo and contact info can be displayed in application. All extra controls (e.g. "Connect" button) are hidden from user.
Here is an example of customized Distant Desktop: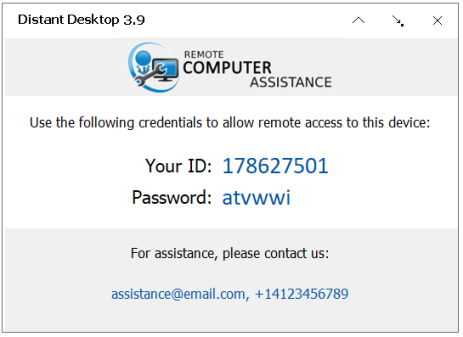 Your contacts info is a string that can be easily copied to clipboard. You can put your email, URL of the support page, phone number or anything else.
In order to get assistance, user must contact you and tell you the ID and password (randomly generated). That's all.
There are two ways to customize/rebrand Distant Desktop.
The first way is creation of custom/rebranded application with the help of our special utility. This method is recommended if you are technical assistant, and you do not deliver your own digital/software products to your customer. Learn more >>
The second way is suitable if you want to deliver Distant Desktop to end user as a part of your digital product / software installation.
In this case you can customize Distant desktop by creating a simple text file. Then you integrate original distant-desktop.exe, your logo image and the text file into your distributive. Learn more >>>